Discover the Charms of the Lake Oswego Neighborhood
Lake Oswego Neighborhood Guide

Welcome to Lake Oswego Or, a picturesque city nestled in the heart of Oregon. With its rich history, stunning landscapes, and vibrant community, Lake Oswego offers an idyllic lifestyle that beckons both families and individuals alike. This Lake Oswego neighborhood guide describes the myriad of benefits available when living in this enchanting city, including its top-notch schools, abundant parks, and thriving entertainment scene. Lake Oswego is a hidden gem!
In Lake Oswego, the charm of a tight-knit community blends seamlessly with modern amenities and a rich cultural heritage. With excellent schools, breathtaking parks, and a thriving entertainment scene, this city provides an ideal setting for a fulfilling and vibrant lifestyle. Whether you're seeking quality education for your children, a haven for outdoor adventures, or a culturally enriching environment, Lake Oswego offers it all. Come and experience the magic of this remarkable city, and you'll soon discover why it's considered one of Oregon's hidden gems.
What is Lake Oswego known for?
In the late 1800's, peaking around 1890, Lake Oswego was a center for Iron Production. After mining, the ore was shipped to Lake Oswego for smelting. A large smelting furnace was built on land that is now known as George Rogers Park.
What county is Lake Oswego in?
The City of Lake Oswego has parts in three different counties. Most of the city lies in Clackamas County with the northern part in Multnomah County and the west in Washington County.
Unique Points of Interest
Here are some unique points of interest that are called out in our Lake Oswego Neighborhood guide.

Oswego Lake: One of the defining features of Lake Oswego is its namesake lake. Oswego Lake is a private lake that offers residents exclusive access to its serene waters. The lake provides opportunities for boating, fishing, and lakeside relaxation, creating a tranquil oasis within the city.
Lakewood Center for the Arts:  Located in the heart of downtown Lake Oswego, the Lakewood Center for the Arts is a cultural gem. It houses multiple theaters and art galleries, showcasing a variety of performances and exhibitions throughout the year. From plays and musicals to art shows and workshops, the center enriches the community with its vibrant arts scene.
Iron Mountain Park:  Nestled in the scenic hills of Lake Oswego, Iron Mountain Park offers breathtaking views and unique recreational opportunities. The park features a disc golf course that winds through the forested landscape, providing a fun and challenging experience for disc golf enthusiasts.
Marylhurst University:  Situated in Lake Oswego, Marylhurst University is a small, private university known for its emphasis on the arts, humanities, and sustainability. The campus features beautiful grounds and historic buildings, and the university offers a range of academic programs and cultural events that contribute to the community's intellectual and artistic vibrancy.
Willamette Shore Trolley:  Take a nostalgic ride aboard the Willamette Shore Trolley, a historic streetcar that runs along the scenic Willamette River. This charming attraction allows visitors to experience a piece of the city's history while enjoying picturesque views of the surrounding natural beauty.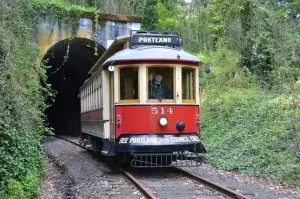 Lake Oswego Farmers' Market:  Every Saturday from May to October, the Lake Oswego Farmers' Market comes alive with vibrant colors, enticing aromas, and an array of fresh produce, artisanal products, and local crafts. This community gathering spot allows residents to connect with local farmers and vendors while supporting sustainable and healthy living.
These unique points of interest listed here in our Lake Oswego Neighborhood guide, add to the charm and character of Lake Oswego, providing residents and visitors with memorable experiences and a distinct sense of place.
Education in Lake Oswego
Lake Oswego takes great pride in its exceptional education system. With a focus on nurturing young minds, the city boasts top-rated schools that offer a comprehensive curriculum and a commitment to academic excellence. The Lake Oswego School District is comprised of renowned institutions such as Lake Oswego High School, Lakeridge High School, and multiple elementary and middle schools, which consistently ranks among the best in the state.
In addition to academic achievements, the schools in Lake Oswego emphasize holistic development by offering a wide range of extracurricular activities, including sports, arts, and community service. The district's rich history is interwoven into the curriculum, allowing students to develop a deep appreciation for the city's heritage.
Here are some notable schools in Lake Oswego:
Lake Oswego High School: As the flagship high school in the Lake Oswego School District, Lake Oswego High School offers a comprehensive curriculum, dedicated teachers, and a wide range of extracurricular activities. The school focuses on providing students with a well-rounded education and preparing them for college and beyond.
Lakeridge High School: Another esteemed high school in the Lake Oswego School District, Lakeridge High School is known for its strong academic programs and successful athletics. The school emphasizes critical thinking, creativity, and community involvement, empowering students to excel in various domains.
Forest Hills Elementary School:  Forest Hills Elementary is a highly regarded public school known for its commitment to academic excellence and nurturing environment. The school fosters a love for learning through innovative teaching methods and a supportive community of educators and parents.
Lake Oswego Junior High School:  As an intermediate school serving students in grades 6 to 8, Lake Oswego Junior High School provides a smooth transition between elementary and high school. The school offers a challenging curriculum, comprehensive extracurricular activities, and a focus on personal growth and character development.
Parks and Recreation
Nature enthusiasts and outdoor lovers will find solace in Lake Oswego's abundance of parks and green spaces. With over 600 acres of meticulously maintained parkland, the city offers a myriad of opportunities for recreation and relaxation. From serene lakeside parks to expansive trails, there's something for everyone.
Millennium Plaza Park, situated on the shores of Oswego Lake, is a favorite among locals and visitors alike. Its lush green spaces, tranquil waterfront, and scenic views provide the perfect backdrop for picnics, concerts, and leisurely strolls. George Rogers Park, a historic gem, offers riverside picnic areas, sports courts, and access to the Willamette River.
For outdoor adventurers, Tryon Creek State Natural Area beckons with its sprawling 658-acre forested oasis. The park features miles of hiking trails, enchanting wildlife, and a nature center that offers educational programs for all ages. From birdwatching to trail running, Tryon Creek provides an escape into the beauty of nature.
For golf enthusiasts, Lake Oswego boasts several championship golf courses that offer stunning landscapes and challenging fairways. Here are a few notable golf courses in the area:
Oswego Lake Country Club: Nestled alongside the serene Oswego Lake, this private country club offers a premier golfing experience. Designed by renowned architect Chandler Egan, the course features lush fairways, strategic bunkers, and breathtaking views, making it a favorite among golfers of all skill levels.
Lake Oswego Public Golf Course: Situated in the heart of the city, this public course provides an affordable and enjoyable golfing experience. With its well-maintained greens, tree-lined fairways, and scenic surroundings, it's an ideal place for a relaxing round of golf.
Waverley Country Club: Located just minutes away from Lake Oswego, this private club offers a meticulously designed golf course. The challenging layout, manicured greens, and beautiful views of the Willamette River create an unforgettable golfing experience.
Entertainment and Culture
Lake Oswego offers a vibrant and diverse entertainment scene, catering to a wide range of interests. The city's thriving arts community showcases local talents through numerous galleries, theaters, and annual events. The Lakewood Center for the Arts serves as a hub for creativity, hosting theatrical performances, art exhibits, and classes for aspiring artists of all ages.
History buffs will delight in the rich heritage of Lake Oswego. The city's roots can be traced back to the iron and steel industries of the early 19th century. Exploring the historic Oswego Village and the nearby Oswego Iron Furnace will transport you to a bygone era, offering a glimpse into the region's industrial past.
Food enthusiasts will find an array of culinary delights in Lake Oswego's charming downtown district. The city boasts an eclectic mix of restaurants, cafes, and specialty shops, offering delectable cuisine from around the world. Whether you crave a cozy brunch spot or a sophisticated fine dining experience, Lake Oswego has something to satisfy every palate.
Lake Oswego Wine.
Lake Oswego Restauarants
Here are five notable restaurants in Lake Oswego that offer a diverse range of culinary experiences:
Nicoletta's Table: This charming trattoria captures the essence of Italian cuisine with its warm ambiance and authentic flavors. From wood-fired pizzas to homemade pasta dishes, Nicoletta's Table delights diners with its fresh ingredients and inviting atmosphere.
Gubanc's Pub: Known for its cozy pub setting and gourmet comfort food, Gubanc's Pub is a local favorite. Indulge in their mouthwatering burgers, hand-cut fries, and an extensive selection of craft beers, all while enjoying the friendly and relaxed atmosphere.
Five Spice Seafood + Wine Bar: Seafood lovers will delight in the culinary creations at Five Spice. With its innovative fusion cuisine and extensive wine list, this restaurant offers a sophisticated dining experience that showcases the flavors of the sea.
Tucci Ristorante: Step into Tucci Ristorante and be transported to a charming Italian trattoria. From their handcrafted pastas to their delectable seafood and meat dishes, Tucci Ristorante captures the essence of Italian cuisine with flair. The cozy ambiance and attentive service make for a memorable dining experience.
La Provence Boulangerie & Patisserie: Indulge in the flavors of France at La Provence, a delightful bakery and restaurant. From freshly baked bread and pastries to French-inspired dishes, this establishment offers a taste of Paris in the heart of Lake Oswego. The cozy atmosphere and delectable treats make it a favorite spot for breakfast, brunch, or an afternoon pastry.
These notable restaurants showcase the culinary diversity and quality of dining options available in Lake Oswego. Whether you're craving Italian classics, pub fare, seafood delights, or French-inspired delicacies, these restaurants are sure to satisfy your taste buds and provide a memorable dining experience. 
 With its exceptional schools, expansive parks, vibrant entertainment scene, delightful restaurants, and a range of outdoor activities including top-notch golf courses, the Lake Oswego neighborhood truly offers the best of all worlds. The city seamlessly blends its rich historical heritage with modern amenities, creating a captivating community that inspires residents and visitors alike.
Whether you're seeking a family-friendly environment, a place to nurture your passions, or simply a retreat into nature, Lake Oswego has it all. Embrace the enchanting charms of this extraordinary city, and consider making Lake Oswego your home—a decision that will undoubtedly enrich your life in countless ways.